Check out the detailed itinerary in the tab above. Here is a short introduction: 
An 8 day Icelandic Highland Winter Adventure for those seeking to be a traveller, not a tourist. The trip is a combination of total remoteness combined with civilization, touch of the locals, adventure activities in inspiring landscape and a welcoming atmosphere.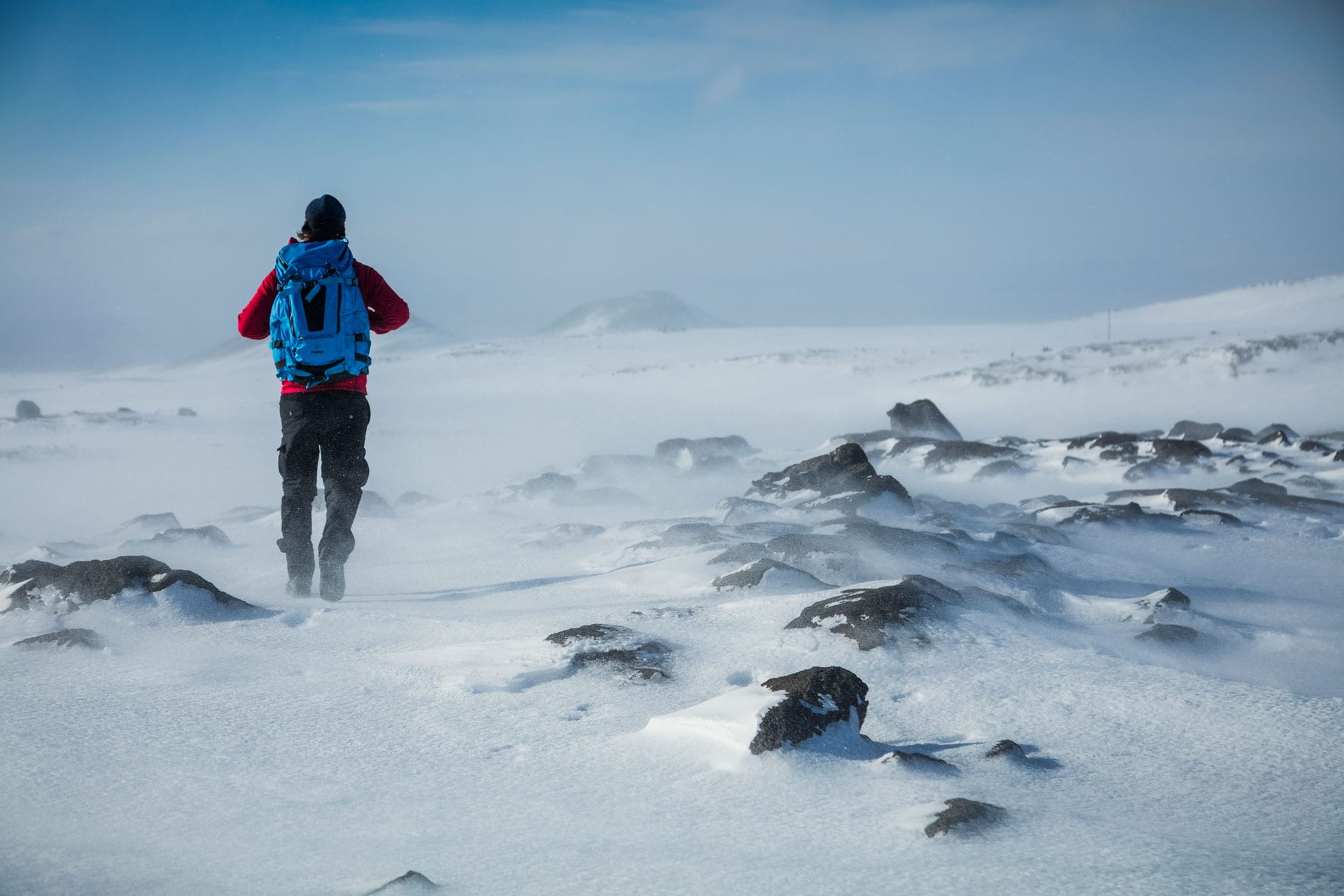 Activities and destinations include a snowmobile safari and hot spring bathing in Landmannalaugar, super jeep safari and snowshoe hike in Thorsmork, ice-climbing and ice-walking at Sólheimajökull, visiting South Coast sites such as Seljalandsfoss, Skógafoss and black beaches, the famous Golden Circle tour and a day on your own in Reykjavík.
Check out the detailed itinerary in the tab above.
| | |
| --- | --- |
| DEPARTURE/RETURN LOCATION | Midgard guide picks you up at the airport. Different ways of transportation on departure day depending on your ETD. See full day-to-day description in the tab above. |
| AVAILABLE DATES | Please contact us for dates. |
| DURATION | 8 days / 7 nights |
| WEAR | Comfortable clothing, hiking shoes and warm clothes according to this area's weather forecast and activities in our day to day description. Upon booking you will receive a detailed packing list. |
| GROUP SIZE | Min 8, max. 16 people. Can be adjusted to bigger and smaller group size by request. |
| FOR WHOM? | Fits individuals, group of friends, couples and families with grown up kids. Can be adjusted to company groups that would like to add some work in to it. Few places as inspiring for new ideas as the ones visited on this tour. |
| TRANSPORTATION | Mini-bus and super jeeps. |

Please ask for ideas and quote for your prolonged stay based on your preferences. If you want an upgrade of your accommodation please be in touch. Sleeping bag accommodation in Volcano Huts can be upgraded to a double room accommodation in made up beds with a shared bathroom. Midgard Base Camp accommodation can be upgraded to family accommodation with shared bathroom or to a double room with private or shared bathroom. If requirements for private rooms with private bathrooms are more than we can fulfil at Midgard Base Camp we will accommodate you at some of our neighbour countryside guesthouses or hotels or with our co-operators at Hótel Rangá. Hotels in Reykjavík can be upgraded to a different variety of 4 star hotels.
Feel free to request a private tour through adventure@midgard.is. You can call us at +354 578 3370 from 09:00 – 17:00 all weekdays.
DAY 1 - Airport pick up - The Highland Center
Midgard Adventure guides will welcome you at the airport. For you to relax and orientate we start with a light breakfast / meal at a local restaurant on the Reykjanes peninsula. There we go through the plans for the week and adjust them in accordance to weather. Depending on weather we either use the day for some of the sights along the way or drive straight to The Highland Center. The drive to The Highland Center from Keflavik airport takes 4-5 hours depending on snow conditions. At a convenient place there will be a snack moment and transportation changed to super jeeps. At arrival at The Highland Center the group will gather for a welcome dinner. In the evening we tell stories and play games. If the sky is clear we will start our search for the Northern Lights. Overnight: Made up beds in double rooms with private bathroom.
DAY 2 - Snowmobile safari to Landmannalaugar
The Highland Center is located at the entrance to the highlands and the next two days are spent in the remoteness of the highlands doing different kind of activities depending on weather and snow conditions. After breakfast you will receive instructions on how to drive the snowmobile before heading on to Landmannalaugar for the day. The trip takes you through the highlands and along Hekla, the most active volcano in Europe. Lunch is prepared in Landmannalaugar and thereafter we take a bath and relax in the natural hot spring before heading back to The Highland Center for dinner and rest. Overnight: Made up beds in double rooms with private bathroom.
DAY 3 - Super jeep safari from the Highlands to Thorsmork
After breakfast we leave The Highland Center on the super jeeps and start the trip towards Þórsmörk. After a rather short drive we stop by at Stefnir´s place. Stefnir is one of the owners of Midgard Adventure and has a horse farm where you will get an introduction of the Icelandic horse. From there we head on to Thorsmörk, the valley of the Norse God Thor where we spend the next night. Thorsmork is one of our gems, made in eruptions underneath the glaciers with a spectacular landscape, formations and remoteness. Thorsmork is located in between the three glaciers; the now disappearing Tindfjallajökull, Myrdalsjökull, the one that hosts the volcano Katla and Eyjafjallajökull, the one that erupted in 2010. On our way to Þórsmörk we stop by at several places, among them the outlet glacier Gýgjökull where the eruption in 2010 first presented itself. Husadalur valley in Thorsmork, where we will be staying, is inaccessible by regular cars throughout the year. During winter the situation becomes even more demanding with the smaller rivers building up their riverbanks making it more of a challenge to cross. This is where the super jeeps come in strong. When in Thorsmork we enjoy a dinner buffet in Husadalur valley and accommodate in a sleeping bag dormitory. In the evening we again enjoy telling stories and play games and take on an evening snowshoe hike searching for the Northern Lights. Overnight: Sleeping bag dormitory in a mountain hut.
DAY 4 - Snowshoe hike in Thorsmork
After a nice breakfast at Volcano Huts we head out for a hike / snowshoe hike. After lunch we pack the gear and leave towards civilization, enjoying more of the Eyjafjallajökull area both by car and by foot on our way back. When back to civilization the chefs at Midgard Base Camp will welcome you with a nice dinner. Overnight: Accommodation in made up bunk beds at Midgard Base Camp a shared bathroom. Max 6 guests in each dorm. Jacuzzi and sauna are on site.
DAY 5 - Glacier walk and ice climbing on Sólheimajökull
On your fifth day we take you along the south coast with its beautiful sights, the waterfalls Seljalandsfoss and Skógafoss, the black beaches and more. We will enjoy some of the sights but the main aim is the visit to Sólheimajökull, an outlet glacier of the ice cap Mýrdalsjökull. On Sólheimajökull you get to know the fantastic world of the glaciers and learn the skills of the glacier walk and the ice climb. You do not need to be an experienced climber to enjoy this.You will be provided with a lunch pack to make sure you have enough energy for the day. After a full day we head back to Midgard Base Camp for dinner and get-together party with the guides and the family of Midgard. Overnight: Accommodation in made up bunk beds at Midgard Base Camp. Shared bathroom. Max 6 guests in each dorm.
DAY 6 - To Reykjavik via The Golden circle: Geysir, Gullfoss, Thingvellir
After the activities of the previous days this is a more relaxing day. After breakfast we start our tour for the day where we will take you to the Golden Circle. The Golden Circle consists of three places, Þingvellir the National Park and Unesco site, Geysir, the geothermal area, the still active geysir Strokkur and Gullfoss, the Golden waterfall. For lunch we stop by at a local tomato farm where we will have home- made tomato soup and bread served in a green house. When in Reykjavík we give you a short sightseeing around the town before checking in at your hotel. If the group feels up to it Midgard Adventure will arrange for a dinner in Reykjavík but if not this is the night where smaller groups or individuals can enjoy on their own. Midgard Adventure staff will help out with recommendations for activities and restaurants. Overnight: A double room in a 3 star hotel in Reykjavík.
DAY 7 - A day to enjoy Reykjavík
A day on your own in Reykjavík. This day is thought to be your relaxation day. If you would still like to be active you can pick an activity that fits you, horseback riding, whale-watching, flight seeing or helicopter ride, visit to the Blue Lagoon or just relax around Reykjavík, enjoying the cafes, the museums, the restaurants and the shops. Our guides can help you organize this day in accordance with your wishes and with recommendations on places to dine. Overnight: A double room in a 3 star hotel in Reykjavík.
DAY 8 - Departure day
The last day you are again on your own. The ones leaving early will take a taxi to the airport but the others not leaving until the afternoon can either enjoy the day in Reykjavík or visit the Blue Lagoon on the way to the airport. No need to worry about arrangements – they can be made via Midgard Adventure. If you would like to extend your stay for few more days we would love to assist you on that. You can either prolong your stay in Reykjavík, add private or open tours to the south or the west (the Snæfelllsnes peninsula, Norðurárdalur valley), visit the Blue Lagoon, fly over to the north and visit the capital of the North, Akureyri or more.
Included:
All transport (super jeep and bus) except for private transport on the Reykjavík day and airport transport on your way back (will though be arranged for by Midgard Adventure).
English speaking local guide all days (except for the day in Reykjavík)
All accommodation including breakfast:

Highland center 2 nights in double / twin rooms with private bathroom.
Thorsmork, Volcano Huts. Sleeping bag accommodation in a mountain hut.
Midgard Base Camp 2 nights in a made up bunk bed with shared bathroom. Max 6 persons per room.
Reykjavík. 2 nights in a 3 star accommodation in a double / twin room with a private bathroom.

All meals after arriving in the afternoon of day 1 (except meals on the Reykjavík day)
Snack and water in car
All activities mentioned in the itinerary as weather allows:

Super jeep tours
Hikes
Snowmobiles
Ice walk / ice climb
Snowshoes
Possibly cross country skiing
Not included:
Meals on the Reykjavík day
Transport to the airport on departure day
Personal expenses
Extra activities not mentioned above and personal activities on the Reykjavík day
Up on request:
Upgrade of accommodation.

Please do not hesitate to be in touch if you want an upgrade of your accommodation. Summary of possibilities for each accommodation at the end of the itinerary description
Extension of trip
Private trip